We have broadened the scope of our popular cloud service in nearly every direction with its latest update. With greatly expanded mobile functionality, a desktop app, included cloud backup, and a revamped CRM, the new service update has improvements for all user types, but especially for small businesses.
Mobile applications
for both
iOS
and
Android
are ready for use in both Bitrix24 and in
Bitrix Intranet
, and now include file and task management. Another innovation that expands access to the intranet is a new
Desktop App for Mac and Windows
that serves as an internal IM manager now and will include file management in the near future.
Feel free to download our mobile and desktop apps:
Bitrix24 Mobile App for iOS
Bitrix24 Mobile App for Android
Bitrix24 Desktop App for Mac
Bitrix24 Desktop App for Windows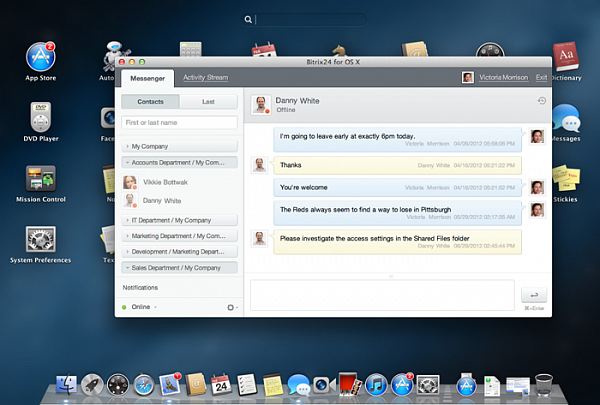 The biggest impact for small business comes from
improvements in the CRM
. Now practically all upcoming work can be viewed, edited, and executed using the new CRM object, Activities. Activities can be associated with any lead, contact, company, or deal and help organize the day's work as well as make logging all interactions (including phone calls and emails), a lot easier.
Also new in the CRM is an advanced email handler so that sales associates and clients can use their familiar email clients and the CRM will keep a full log of these communications.
New social intranet functions
have appeared in the Activity Stream. There are now 3 types of posts: messages, polls, and showing appreciation.
Polling
questions and answers can be constructed in a special interface, and
appreciation 'badges'
can be awarded to users. It is important to note that all 3 types of posts can be made available to any chosen subset of intranet users.
The implications of the new update, especially for the new mobile features, for small business are vast. Bitrix Intranet and Bitrix24 are really now the places wh ere you do business, since you might be at the office, onsite with a client, on the road, or anywhere, and all of your operations, including contacts with clients, can be organized in them. Furthermore, the much-improved CRM puts the calls, emails, and other contacts that need to get done today right at your fingertips.
Bitrix24 now takes care of you even beyond the bounds of the intranet, as there is now the
option to create an external link to files in the intranet
so that they can be shared with anyone, without allowing access to any other part of the intranet.
Check out all the new features and give us your feedback!