Meet new
Business Card Scanner
app – a simple way to convert business cards to your Bitrix24. Take a photo of business card and it will import all card data directly to your Bitrix24 CRM.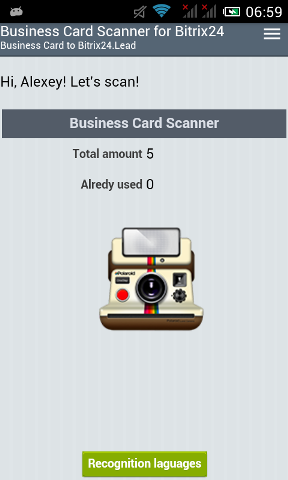 Features:
Bitrix24 CRM integration.
All information in one place – couple click to snap а business card to your Bitrix24.
Preview data and make necessary changes before saving.
Works via your mobile device camera.
Recognition in 6 languages
Exact conversion of business card data.
You pay only for recognition

App is FREE. Recognitions are NOT (you pay only when you need) Flexible payments options. Free 5 cards for demo.
There are three steps to start:
Install a free application "Business Card Converter" from the Marketplace to your Bitrix24 intranet
Install a free application "vCard24" from Google Play or from App Store on your phone
Connect your device to Bitrix24.

More information in Business Card Converter for Bitrix24 -
user's guide
.
Please do not contact Bitrix24 Helpdesk for the app support, the app developer can be reached via
this form.