You've depended on Gmail for like the past decade, and don't want any other mail service in your life. But at the same time, you're also very fond of Bitrix24.
Connect24
is the link - or as you may wish, the connecter - between Gmail and Bitrix24 that you've been waiting for, for at least a decent part of your life. Try it for free, with unlimited users, right now!
MAKE Interactive, a long-time Gold level partner of Bitrix, developed this connector as its first app for the Bitrix24 cloud service. With the release of this app, MAKE Interactive is announcing that it Bitrix division, MAKE24 (
https://make24.nl/
), will be focusing much more on providing excellent services and consultation to users of Bitrix24 in the cloud, as we have for many years with the self-hosted version of Bitrix24.
Connect24 is the link between Gmail and Bitrix24 made by people who use both products, just like you. From your Gmail, you can pull up an interface that lets you send the email message that you are viewing to your Bitrix24 CRM as a
new Lead or Contact
, append it as an
email activity
to an existing CRM item, or even
create a task
associated with the Lead or Contact.
As a Bitrix24 administrator, you can download the Connect24 app to your Bitrix24 instance. This will make the Chrome extension available from your Bitrix24 portal from the new menu item called 'Connect24'. Users can download the extension from there. A 30-day trial period with unlimited users begins when Connect24 is downloaded to your portal.
Once the Chrome extension is deployed, you can authorize into your portal, creating the connection to the CRM. When viewing an individual email in your Gmail, you will see a Connect24 button at the top of the viewing window. This opens the pop-up interface to send the email to Bitrix24 in the manner you desire.
You can choose to create a new Lead, Contact or Company directly in the pop-up. You'll get options for each email address that is involved in the message, other than your own. Shown below is an email from a single person who is not yet in the CRM as a Lead or Contact.
After creating a Contact, we have the option to append the message to the existing Contact as an email activity, a task activity, or in that Contact's stream.
Let's look at a message that has multiple email addresses in it. Note both the "Add to CRM" and the "Send to CRM" sections are displayed immediately in the pop-up if one address is already in the CRM and there is also an unknown recipient. In the image below, one email address in the message is not recognized (at the top) and has the option to "Create", and the another Contact (lower) was identified. A task with a deadline will be sent to that Contact upon clicking Send.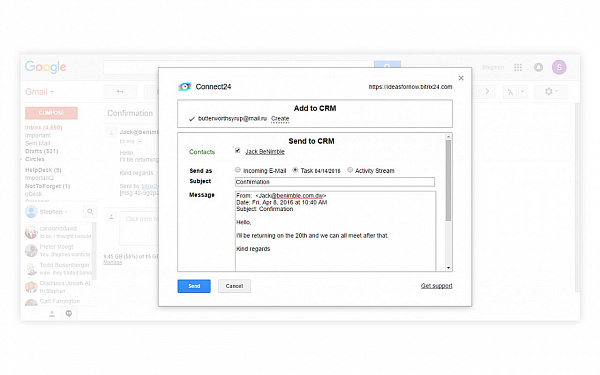 Whether you choose a task or an email or stream post, the message is appended to the Contact(s) or Lead(s) which are checked in the lower section (in this case Jack BeNimble). Below, we see the message appended to the Contact as an incoming email activity in the Bitrix24 CRM.
This means that when a client's email comes to your mailbox, you are 3 clicks away from sending it into Bitrix24 as a task!
Creating tasks from email is a long-awaited function for Bitrix24 users, and there is an option for choosing a deadline directly in the pop-up. The task will be assigned to you, but once in Bitrix24, you can delegate or edit it as needed. If the sender does not exist yet in your CRM, you can create a Lead or Contact as shown above via clicking only, make the task, and send without leaving your mailbox at any time during the process!
As mentioned, set up is very easy -- the app is downloaded to your Bitrix24, each user adds the Chrome extension, authorization is performed, and Gmail and Bitrix24 are ready to connect.
After 30 days, payment is made on a monthly basis (starting at 10€ per month). You can purchase any number of user accounts via the app page. The administrator has control over what users can utilize the app, so if you choose to provide it to only some of your users, that is done easily.
The beta version of the app has only just been released as of April 2016 and we will update this post as necessary. Please send questions and provide feedback at
support@make24.nl
. The MAKE24 team is looking forward to serving you!