Now the Activity Stream is the main tool for information exchange in the intranet, and we have made a number of changes that make it even more useful for daily communications.
Changes in the Activity Stream:
- polls
- appreciation (acknowledgement badges)
- smart follow mode
Let's look at these in detail:
Polls in the Activity Stream
When writing a post in the Activity Stream, you can construct polls for quick gathering of feedback and opinions of team members. Additionally:
- a poll can be made available to a subset of users such as a workgroup or department, or to all employees;
- the text/subject of the poll can include all of the tools available in a usual post: attached files, video, reminders, the visual editor, etc.
- a poll can have multiple questions in a multiple choice format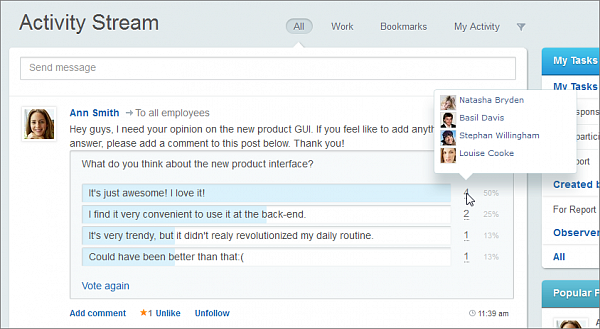 Badges
You can now use badges in Activity Stream messages. This is a motivational tool for colleagues, which allows you to show appreciation of employees and management for outstanding work. The badge is shown in the Activity Stream and, like polls, is visible to any set of users selected.
Smart follow mode
Smart follow mode reduces 'noise' in the Activity Stream, allowing you to follow only conversations that are of interest to you.
Now each user can mark whether to follow topics in the Activity Stream or not.
By default, users follow all topics in the Activity Stream – that is, whenever a new post is made in a topic, the topic pops back to the top of the Activity Stream and the user can read what is new. Click
Unfollow
and the conversation will not return to the top of the Activity Stream when new comments are posted.
This follow/unfollowing regime is also available in the mobile app.